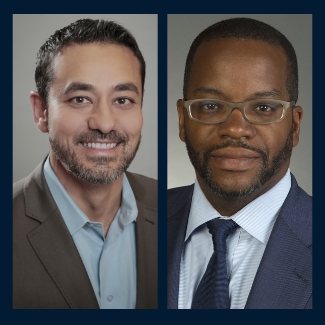 David Stark, Executive Vice President, Chief Legal Officer, Teva Pharmaceutical Industries, Trevor Faure, CEO, Smarter Law Solutions, Lee Udelsman, Partner, Major, Lindsey & Africa
Part 1 - Navigating COVID-19
Chris Fawzy
Corporate Vice President, General Counsel, Corporate Secretary & Chief Compliance Officer of Woodward Inc.

Woodward is an independent designer, manufacturer and service provider of control solutions for the aerospace and industrial markets.

Chris joined Woodward as vice president, general counsel and corporate secretary in June 2007, and was appointed corporate vice president, general counsel, corporate secretary and chief compliance officer in October 2009. He directs Woodward's global legal and compliance affairs, including commercial and strategic agreements, litigation, intellectual property, and corporate governance, and the company's global compliance program.
How has COVID-19 impacted Woodward and its operations?
Two things have impacted us: COVID-19 and oil prices. COVID-19 has affected both supply and demand for our aerospace and industrial segments. And as oil prices have dropped, it's also affected our industrial business.

We design and manufacture fuel systems and controls that must operate safely and consistently in harsh environments. Our components and systems are sold to original equipment manufacturers, as well as to end users and service providers in the aftermarket for maintenance, repair and overhaul.

With COVID-19, airlines were almost completely shut down as commercial air traffic demand dropped by about 80%. This impacted new builds of airplanes, as well as the aftermarket, as maintenance cycles slowed down with decreased aircraft utilization. The decrease in the aftermarket has put considerable pressure on our profitability. If you think about when you take your car in to replace a part, the price of replacing a part is much greater than when you bought the part as one of thousands of parts in your car. So, the aftermarket is more profitable for us as a company.

Looking at all the impacts of the macroeconomic challenges, we took multiple measures to reduce costs and preserve cash as we navigate through this crisis, which unfortunately, involved layoffs, furloughs and some plant shutdowns. Our initiatives also included salary reductions for all company officers and directors, implementation of a company-wide wage freeze, elimination of annual bonuses for 2020, a decrease in our quarterly dividend, and an overall focus on reducing costs, working capital and capital expenditures.

Now the focus has become even greater on working capital utilization such as accounts receivable and inventory, and so we're doing daily reviews of our customer forecasts, making sure they're in line with our market intelligence.
What are some of the creative ways you've navigated through this?

We've had to prioritize what we are going to produce and source to make sure that we can continue to meet our customer demands. But as this COVID-19 crisis has unfolded, we've looked for other ways we can help our key stakeholders, which includes our community. One thing that our engineering team in Colorado got involved with and supported was an initiative by Colorado State University (CSU) to work on lifesaving ventilators. Obviously, there's a significant need there, and the U.S. government is looking at producing tens of thousands of these ventilators. Our engineering team came up with a really creative, effective and practical solution for a ventilator. It's rather intricate yet very transportable and cost-effective. We worked with CSU on initial prototypes and designs, and now we're engaging directly with the U.S. government and the Department of Defense. Development projects like this go through a detailed phase gate product life cycle process. From idea conception to the development of prototypes typically takes several months, if not years. In this case, our engineering team took this from idea conception to prototypes in a matter of just weeks. It's something that we're very proud of and it highlights the problem-solving mentality that is part of our DNA. These are the types of projects that do more than help our communities—they also have really boosted morale in an otherwise challenging environment.

We've also had to be a little creative in our operations. As you might imagine, as with any manufacturing facility pre-COVID-19, there wasn't really much need for social distancing. So, we've had to reset our mindset and modify our manufacturing facilities to ensure that we're able to effectively reduce our member density and promote social distancing. And while we've always had really clean facilities, we've enhanced our focus on sanitization. It's very gratifying to see how engaged everyone in our facilities has been to help keep our operations productive while maintaining a safe and healthy work environment.
How has all this affected your role as general counsel and chief compliance officer?

Having to monitor not just U.S. but worldwide governmental orders has been quite an undertaking. Fortunately, I have a really good team. The first month there was a barrage of executive orders coming out daily in areas that affected our facilities, sales, suppliers and distribution channels. We've also had to review guidance from the CDC, WHO and the like to ensure we're keeping up with the best-known health and safety protocols. Separately, we were in constant communications with our customers and suppliers regarding our operations, the challenges we've faced and our responsive measures, including shutdowns and furloughs. We've also had to address similar communications from our customers and suppliers.

It's required a lot of engagement and involvement from me and my entire team. Every single person in the legal and compliance organization has been very engaged in addressing the COVID-19 crisis.

Have there been any silver linings within the organization during this pandemic?

It's been really heartwarming to see how everyone pulls together in times like this. I think people are much less focused on themselves and more focused on supporting each other. That's been our culture generally, but even more so now. People are jumping at the chance to help someone else either personally or from a workload standpoint, even if it means broadening beyond what they'd ordinarily be doing.

Another significant silver lining is everyone has been extremely productive, focused and fully available at any time. It's been very nice to see that and to see people learning, adapting and working under new and challenging conditions.
Where do you think we go from here?

My prediction—and this is just my opinion—is that it's going to be largely dependent on what happens in the disease control world. The optimistic side of me hopes that we may have a vaccine by the end of the calendar year that's widely distributed and available. If that's the case, I think the airline industry could show good signs of recovery over the next year or so. If it prolongs for another even six months beyond that, I think we could be looking at an extended recovery period. You can't just turn on the spigot immediately after turning it off.

During this challenging period of macroeconomic decline, we need to be careful about managing our business—the balance between short-term and long-term objectives. Preserving cash on the one hand while positioning ourselves for growth on the other as we come out of this. Because I do think once we come out of this we have a lot of opportunity for growth. I expect our R&D and engineering teams are going to further focus on expansion into both our current markets and adjacent markets. I believe we're going to be able to leverage our technologies, operations and strong financial position so that when this COVID-19 crisis is behind us, we will be even more responsive to our customers, generate greater customer satisfaction and ultimately create greater shareholder value. I believe we're going to exit this period a stronger company than we were going in.
Trey Muldrow - Partner in Charge of the New York office of Akin Gump

Akin Gump Strauss Hauer & Feld LLP is a leading global law firm providing innovative legal services and business solutions to clients worldwide.

Trey Muldrow draws on more than two decades of legal experience when sharing legal advice with clients in facilitating complex domestic and international commercial transactions. He is recognized as a leading lawyer advising on restructurings of private equity and other investment vehicles and has led a number of high-profile and precedent-setting transactions.
How has COVID-19 impacted Akin Gump?

A couple of years ago, our senior management had been focused on helping the attorney and business services team develop more of an agile work environment. There was a focus at the time in terms of making sure you understood what you had at home and whether you could work from home as easily as you could in the office. When that was being discussed and rolled out, people participated, but it was not a primary concern for many people. It turned out that foresight was fantastic. As COVID-19 evolved, people were set up with systems in place to facilitate working from home, and as a result, it was much easier to leave the office than any of us ever expected.

But on the personal side, we have been trying to make sure that people understand their roles and responsibilities. People felt isolated at first—some still do. So while the structural and kind of hardware and software components were not an issue, we've had to work to keep the culture and interpersonal dynamic alive, which is much harder.

Now, for the partners, I think it has been less of an issue than for the associates. The partners at many firms, including our own, tend to be a little bit more flexible in their daily approach. There was a sense that they were already set up and engaging with people on a remote basis as it was.

But as you go younger and younger in the ranks, they're still learning the craft. They're still understanding the organization. And a lot of that growth comes through in-person engagement—going to lunch together, stopping by someone's office, bouncing an idea off a person, etc. You can create some sense of bonding when we're all in the office together. So that has been impacted severely.

What are some of the creative ways you've navigated through this?

There have been a number of office-wide efforts in terms of engagement. The practice groups are having their own individual get-togethers and check-in sessions.

The biggest challenge we had was with the younger parents. They're trying to care for a kid or maybe an elderly parent while doing their day job—and that was bone crushing. We had some conversations amongst the partners to really focus on being sensitive to that, asking questions around that, and taking people's needs and timing into account.

Then the other part where people were struggling has been around scheduling and timing. Where before you would have a commute home and a set timing to your day, now there's no commuting or going somewhere to pick something up. So we're trying to adjust people's minds around that because otherwise this will be all-consuming in a way that it wasn't before.

How has COVID-19 affected your role directly?

As a practice manager, you think within the vertical of your practice. This, however, is a situation where you really get a horizontal view of the workplace and see all the layers—from the partners to the senior associates to the associates to the alumni affiliated with your office. So, you're trying to figure out ways in which you can create some engagement.

Now, the practice group leaders meet and talk about what their groups are doing and what the engagement is. We also have meetings with all the assistants to talk to them about how they are doing, how they are engaging and how they are handling work. We're doing the same thing with all the associates. We want to get a sense of what they're feeling but also share information on a regular basis.

We're also in the midst of kicking off the renovation of our office space. Now it's a matter of trying to figure out if some of the assumptions that we were making about the build-outs still hold today and whether they will hold when people come back with a different understanding of the workplace and the necessity of being in the workplace every day. It is just more to think about. It's still exciting, nonetheless, because you can build bonds with people in a way that you probably wouldn't have in the near term.

What have the silver linings of the pandemic been to your organization?

I definitely think, on the partner level, there's been more cross-practice engagement. I find that if you're forced to be on a call with someone, you have a bit more engagement when that's your only means of communication.

I also think that people are understanding the culture of their workplace probably more than they ever had before. People really are trying to engage with one another and check on each other. I think, from a cultural standpoint, people feel that if they have some connectivity, they still feel connected.

One of the other silver linings is the concept of face time: Some law firms say that they really subscribe to face time and still require it. On some level, the model has been totally deconstructed because you can see that people can be very productive without being in their office. Cases are moving at the same pace; we're moving at the same pace. So that is a silver lining for people who need to have a little bit more flexibility in their work.

Where do you think we go from here?

Sadly, my grandmother passed away during the pandemic. I had to leave New York and travel to Florida to take care of the arrangements and have the funeral. Because I was one of the few people I know who's traveled between regions in the United States, I was really able to see the different ways people are addressing COVID-19.

I recognized in my trip to Florida that being socially or physically isolated for a period of time was a bit of a challenge for re-entry and seeing people whom you don't know. I was able to travel everywhere by car, really controlling my entry—and there still weren't a lot of people. So, the concept of getting on the subway, of being engaged around a lot of people whom you don't know, that is going to be psychological and emotional to deal with for a period of time.

That's not going to snap back overnight. It's going to take some time. So, what I have a better appreciation of, and most of the law firms are already saying this, is the need to slowly open sites and allow people to come at their own pace. Some people are just not going to feel comfortable for a long period of time and that's got to be okay.

So, what comes next? It's coming back to reality. It'll be slow going for an extended period of time. And we still have to keep up the engagement level even if half of the people are in the office and the other half are at home.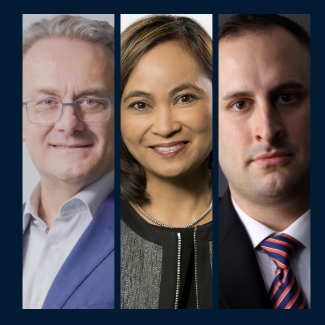 David Stark, Executive Vice President, Chief Legal Officer, Teva Pharmaceutical Industries, Trevor Faure, CEO, Smarter Law Solutions, Lee Udelsman, Partner, Major, Lindsey & Africa
Part 2 - A Look at the Virtual Hiring Process from All Angles
Takeda, a patient-focused, values-based, R&D-driven global biopharmaceutical company, was focused on building a truly global ethics and compliance function. This team, which is committed to enabling the company to make ethical decisions that are in line with their priorities of patient, trust, reputation and business, needed a Boston-based global investigator with technical expertise in ethics and compliance, experience in the life sciences or pharmaceutical industry, extensive international exposure, and a solutions-oriented but highly collaborative approach.

The search began before the COVID-19 pandemic reached the U.S. but continued virtually as U.S. businesses and travel came to a halt. Drew Meyer was scheduled to travel to Cambridge, Massachusetts, for a full day of interviews the day the global travel ban commenced. While Drew had interviewed virtually with the hiring manager (Pino) and Takeda's head of talent acquisition (Aleli) earlier in the search process, the Cambridge interviews were intended as an opportunity to engage with Drew in person and for Drew to meet important colleagues and explore his potential new home.
What was the impact of relying on an entirely virtual hiring process?

Aleli and Pino: For this role, our global hiring team hailed from Dubai, Chicago and Zurich along with interviewers based in Boston and Singapore. Generally speaking, this is already a very challenging talent pool. While we initially focused on Boston-based candidates, given the integration and unique skill set requirements, we focused our search nationally because we were looking for the best fit for Takeda.

Virtual meetings and the first round of interviews via WebEx had already been part of our practice. Our challenges spanned time-zone differences as well as the travel restrictions and office closures presented by COVID-19. Working remotely to attend virtual meetings from dawn to dusk also presented a new type of fatigue. In response, our Global Talent Acquisition Operations colleagues proactively hosted remote sessions and sent frequent updates to promote new solutions and "workarounds" for every adjustment in the search process.

It was one thing to manage time zones, with Dubai ahead of Boston by eight hours and Singapore by 12. It was another to manage interviews with limited weekdays, as the workweek in United Arab Emirates is Sunday through Thursday and weekends are on Friday and Saturday. We did our best to accommodate reasonable slots based on our Dubai-based hiring manager's flexibility to conduct interviews on weeknights and Fridays. On the flip side, we appreciated our candidates' flexibility with early-morning or late-evening interviews. We were pleasantly surprised with the opportunity to truly gauge their interest, resilience, perseverance, commitment and ability to navigate a truly global role.

Did you have concerns about never meeting your final candidate face-to-face before extending an offer?

Aleli and Pino: There were some reservations at the beginning, but that was short-lived. Once we accepted that on-site interviews were being replaced with virtual options, we committed to a different approach to building rapport and providing candidates an engaging interview process and overall experience. Our executive coordinator was instrumental with providing all interviewers and candidates clear instructions, WebEx links, Facetime and other backup options should anyone encounter technical issues.

We also committed to gathering immediate interview feedback so that the next interviewer(s) could probe deeper on specific areas.

Why did you ultimately feel comfortable with hiring your top-choice candidate without meeting in person?
Aleli and Pino: A strong network always helps the interview process, but more so in this virtual setting. Pino had already heard of Drew Meyer and his work in China and broader international experience for pharmaceutical multinationals. We did not meet until MLA presented him. Their objective insights on his accomplishments and motivation to explore Takeda supported his candidacy.

Gathering timely interview feedback was critical to validating candidates' expertise and overall fit for the role and the organization. Hearing Drew's sincere interest in the role and about his ability to relate to the leaders and team firsthand also led us to place him as our finalist.

How did you navigate onboarding?

Aleli and Pino: We implemented virtual New Employee Orientations by the end of March. To ensure new employees could access the network, enroll for benefits and participate in team calls and meetings, we shipped laptops and accessories a week before they started and held remote IT sessions with new hires on the following Monday. The actual virtual orientations now take place on Tuesdays. These remote group sessions resulted in unique camaraderie as we all flexed our newfound, technical muscles.

We also built a solid onboarding program, based on many video calls with all the relevant stakeholders and quite a bit of self-study. Drew had frequent interactions via WebEx with all the members of the team.

Was working with a search firm a benefit to this type of process?

Aleli and Pino: Yes, having a search partner like MLA boosted our sourcing capabilities, as Amy Katz and Bob Mannino became an extension of Takeda. They provided us with competitive market intelligence and insights to complement our knowledge of the candidate pool. They were also strong partners listening to our feedback and swiftly course correcting. More importantly, they represented all candidates well and helped them remain engaged. This resulted in a targeted candidate slate and ultimately a solid hire.

What attracted you to this role?

Drew: There were a lot of factors that attracted me to this role, but the most impactful ones for me were how much everyone at Takeda wanted me there and how this clearly was an important role for them to fill. Their enthusiasm for my background, experience and me personally convinced me that this was the right place for me.

Also, Takeda was evolving. Recent acquisitions had raised its profile and geographic footprint, boosted the R&D pipeline, and launched more medicines. The opportunity to be part of the rebuild became very intriguing.

From your perspective, what was the impact of relying on an entirely virtual hiring process for the role?

Drew: This was admittedly tough. One of the key members of my new team was a client of mine in a previous life, so I had some familiarity with Takeda and its people already. But the majority of people I interviewed with I was meeting for the first time virtually. That made it even more important than it normally is for Takeda and MLA to generate enthusiasm in me for the role, which they were very able to do.

What were the challenges?

Drew: Normally, I would get to interact with my new colleagues face-to-face, see the office I would work in and even visit the city I would be asked to relocate to. I didn't get to do any of that. Taking the leap into the unknown with less information than I would normally have about a new company, team and home city was a big challenge.

What were the benefits?

Drew: From my perspective, I looked at this unusual hiring process as an opportunity to show Takeda my resilience in an uncertain and challenging time. Remote work will be normal going forward, at least in the short to mid term, and because of that, it is critical that we are all able to communicate effectively outside of in-person interactions. And I was hoping that going through an entirely remote hiring process would demonstrate that I could take a curve ball thrown at me and still manage to be successful.

What was the impact of a virtual hiring process for a role based in a city that you had not lived in and that required relocation?

Drew: This was the biggest hurdle to get over when considering this role. I have never been to Boston before (still haven't actually). And with a young family, this is also not a decision I was able to make on my own. But the benefits of the job were so weighty that it was just an opportunity we couldn't pass up. Boston is also an attractive city to live in, in general, so that helped a lot in our decision. If the destination were different, the outcome might have been different also.

It also helped that I am used to moving to a new location sight unseen, as I have had to do that several times in my career now. I think, as a candidate, that experience made it easier to "take the plunge."

How did you feel about never meeting your future boss or colleagues in person prior to accepting the offer?

Drew: In my previous company, my boss and most of my key stakeholders were located in Europe, so I had experience working in a remote environment. The key I find is having a plan and making a concerted effort to establish and maintain those crucial connections and internal network. When you do not have a coffee machine or lunchroom to bump into colleagues and start a spontaneous conversation, you have to be more deliberate about establishing and maintaining that internal network. And I find that if you do that, you can still be quite successful working remotely.

How did this completely remote hiring process compare with your past interviewing experiences for other roles?

Drew: It was an adjustment for sure. But I found that if both sides remain flexible and open to new ways of working and connecting with others, the challenge is far from insurmountable. It helped quite a bit to have the Takeda recruitment team and MLA helping guide the process. The regular communication was really key here, as without it, going through this process completely virtually would have left many more grey areas about the company and the role than would otherwise have been there.

Recruiter Perspective

How did the entirely virtual nature of this search make it challenging?

Amy and Bob: In a typical search, in-person interviews are often one of the most decisive factors in determining the successful candidate. Searches often proceed with a pool of candidates, who on paper all have the qualifications, experience and education to fill the role. Clients use interviews to get to know the candidates on a more personal level and ascertain whether they will fit into their team. Likewise, candidates use interviews to assess the fit with a potential employer, manager and work environment. In a virtual process, this is harder, as video interviews sometimes do not allow for the same level of comfort and at times the conversation can feel more stilted. Here, our main obstacle was overcoming the inability to have an in-person interview. Drew had never been to Boston or Cambridge, and ideally would have visited Cambridge with his family before considering whether to accept the job, and there was uncertainty as to whether travel would open back up quickly.

What were the keys to making this search successful?

Amy and Bob: Open and ongoing communication with Takeda and Drew was the main factor in reaching a successful conclusion to the search. Initially, from news reports, it seemed possible that the shutdown would be lifting quickly and that Drew would have the opportunity to go to Cambridge to interview and get to know the city. However, as the situation changed, we were able to adapt quickly because of the high level of communication with Drew and Takeda.

Having a flexible candidate and client was also a key factor. Both Drew and Takeda were flexible on timing and process, and this allowed the search to evolve and proceed in a way that ultimately led to success. For example, while Takeda's offer to Drew included relocation benefits, Takeda was particularly thoughtful and flexible when designing the terms and timing of the relocation package for Drew. Likewise, greater Boston is a well-known and highly valued market for biotech opportunities, which may have provided Drew with additional comfort to accept a role based in Cambridge without first visiting.

Finally, in our initial screening of Drew, we discovered that he had done work for Takeda in the past as an outside contractor and knew some of Pino's colleagues. We believe this network information gave Takeda an additional comfort level with Drew.

We were able to overcome the lack of an in-person interview through this flexibility and heightened communication. We believe that it was through the dialogue about the process and the pandemic more generally that both Drew and Takeda were able to reach a mutual comfort level.

What lessons learned would you take away and apply toward your next virtual search?

Amy and Bob: The main lesson we learned was to be flexible and keep the lines of communication open as the situation evolves. In a virtual search, it is important to think of novel approaches and for everyone to think outside the box.

In this situation, letting the process evolve over time and at its own pace, while maintaining an even higher level of communication with both Takeda and Drew, allowed everyone to reach a point where they were comfortable proceeding to an offer and acceptance without Drew ever visiting Cambridge or interviewing in person.