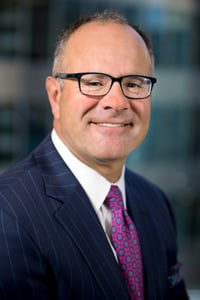 By John Cashman
President, Major, Lindsey & Africa and Allegis Partners
The leadership team of Major, Lindsey & Africa recently held an in-person meeting. It was our first in-person meeting in 18 months. It felt so good to see my colleagues and reconnect on a deeper level compared to months of phone and video interactions. There were three new members of our team, and one of them commented that he was surprised by "how much everyone really enjoys each other's company."
Since the beginning of the pandemic, we have been focused on the comfort and safety of our people—just like our clients. Now that we see glimpses of a return to a pre-pandemic outlook, we (like everyone else) have a lot to consider about how we move forward.
While we learned that we can successfully service clients and candidates across the globe regardless of work location, we also know that most of us also value the sense of culture and collaboration that comes from face-to-face interactions (the in-person kind)—I saw it happen at this in-person meeting! The collaboration, thoughtfulness and ideas that were sparked by the interaction and the camaraderie in that room will pay off handsomely for our firm and for our clients and candidates.
It feels like culture and connection have suffered due to the time and distance we have spent apart. How do we accommodate different risk tolerances among our team members while still maintaining our culture and serving our clients and candidates? How do we make our people feel a part of something bigger than the work on their computer screen while respecting their need to feel safe?
These are important questions without simple answers. We will continue to experiment and seek candid feedback from our people to hopefully find a proper balance. We are unlikely to get everything right on the first try, and solutions will undoubtedly evolve along with the coronavirus and the economy. (Indeed, as I write this, mandates and virus numbers are fluctuating again and are causing some to reconsider next steps.) It is unlikely that we will go back to mandatory five days a week in the office again at MLA and Allegis Partners, but I am hopeful that we will have regular office attendance and more in-person collaboration over time. Reestablishing those bonds will be important, but only when the time is right.
At Major, Lindsey & Africa and Allegis Partners, our biggest connection point across our 29 offices has been our annual meeting. Once a year, we gather most of our employees in one location to learn and reconnect. This three-day meeting allows us to surround ourselves with the smartest and most successful people in legal and executive search and reminds us why we love being a part of the only global legal search firm. Early in 2020, we hosted a two-day virtual version of our annual meeting to reconnect our people as it had been nearly two years since we were last together. This event sparked some energy and revived our passion for each other and our work. But it also showed us what we were missing.
In October, we will attempt to have a more traditional annual meeting in person for the first time since March 2019. We go to this effort and expense because we want to make sure our cultural bonds don't fray further. We know from almost 40 years together that our in-person annual meeting is vital to our sense of community and fulfilling our vision for changing more lives and more organizations.
We know, however, not everyone is ready to get on an airplane or sit in a conference room full of people. And that's OK. We're experimenting and testing and listening to the feedback to ensure that we continue to respect the risk profile and sense of comfort and safety for everyone within the firm. While we believe hosting this meeting is important, we have made the meeting fully optional to balance safety and culture building. And if the virus leads us to reconsidering our in-person plans, we will continue to seek small ways to reconnect and cultivate our culture.
We know that culture beats strategy every day, and that we need meaningful time together to build and maintain culture. We also know that respect for our people and their sense of safety is important too. We hope our attempts to balance both during this unprecedented crisis will lead to 40 more years of changing lives and companies across MLA and Allegis Partners.