An Interview with Peter Carter, CLO of Delta Air Lines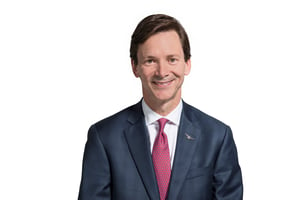 The COVID-19 pandemic ground business to a halt in many industries, but not like it did in the travel industry. As CLO of Delta Air Lines, Peter Carter was faced with a new reality the company never predicted—especially after having one of its best years ever in 2019.
How did you go from being a big law partner to the CLO of Delta Air Lines?
I knew I wanted to be a lawyer from fifth grade on, and I was fortunate to have many opportunities and mentors who encouraged me along the way. I came from a large private law firm. I was a trial lawyer who worked quite a bit with boards, representing large public companies in antitrust and securities matters. I absolutely loved doing big-stakes, high-profile litigation.
I ended up moving to Delta Air Lines based on a relationship. I had known Richard Anderson for at least a decade when he became CEO of Delta. Richard is a lawyer who happened to become CEO, and I had represented companies he was at in various matters along the way. Richard reached out one day and said, "Peter, I'd love to have you as my next chief legal officer." At the time, I was the chair of the firm and loved what I was doing, but after having coffee with him I could not resist.
Moving from a firm and running a legal practice to be a chief legal officer at a public company sounded like a great adventure. To find a super-dynamic industry was an opportunity that was too good to pass up, and honestly, it's been a wonderful experience. During my six and a half years here, the past year and a half were extremely challenging and also the most professionally satisfying of my life.
Tell us a little bit about your role and the legal team at Delta Air Lines.
Delta is one of the world's largest airlines. We like to live up to our anthem: No one better connects the world. That's really something we believe, and we strive to be and do. As a result of that, Delta Air Lines employees are globalists. We really believe that people should travel and be connected to one another and gather and meet. So you can imagine how thrilled we are that people are beginning to travel again and come together again. We think there's nothing more important than human connection.
My role at Delta is chief legal officer and corporate secretary. I also have government affairs and compliance reporting to me, and I oversee public policy for Delta globally. I have eight direct reports. Two of them are based in Washington, D.C., and the rest are based in Atlanta, because we are fairly centralized as an organization. We have about a hundred people in the organization overall, which for a Fortune 70 company is actually quite small. We have a great network of international firms we work with around the world as opposed to having lawyers all over the world. In fact, I only have one lawyer based outside the U.S. and they are in Brussels; that's the only international posting we have right now. I'm privileged to lead the best group of aviation professionals in the world.
How has COVID-19 impacted you and Delta?
COVID-19 had a massive impact on the airline industry, Delta and me personally. We woke up and the world stopped. We were in full existential crisis mode. What became clear very quickly was that we needed to focus on what was most important, which we articulated as three values. First, we needed to protect our people because they were essential workers required to continue to work in person at a time when we didn't know much about the virus. That meant we needed to focus on developing the Delta Care Standard, making sure every employee had PPE and creating testing and vaccine centers.
Second, we needed to protect our cash. Delta was burning millions of dollars of cash a day, so we needed to downsize the airline to stop burning cash. The legal team had to terminate or renegotiate thousands of contracts very quickly. The legal team changed our view of legal risk. It became "how do we mitigate the situation?" rather than "we can't do this" because we had to be quick and pragmatic. Our team was also involved in numerous capital markets transactions to raise money. They did a fabulous job. The government affairs team went to D.C. and obtained financial support from the U.S. government through the CARES Act, which was critical and deeply appreciated.
Third, we needed to protect our future, which meant we couldn't make decisions that would harm us in the future. We had to make sure we weren't shortsighted and made decisions that would make it difficult for us to recover.
Personally, I realized my number one job was to take care of my team and make sure they had the support and tools they needed. I wanted to make sure people were able to ask questions and express their concerns, so I held weekly calls with my entire group and would tell them exactly what was going on. We talked about COVID-19 cases, the vaccine, company financials and more—I was fully transparent with the team so that everyone felt we were all in this together. Everyone was then able to understand decisions that were made. You tell them the challenge and how we're going to get through it, and it was amazing to watch people raise their hands and ask how they could help. We asked our employees to take pay cuts and furloughs and talked about shared sacrifice. In the end, we were able to get through this without having to lay off a single employee.
How have the social unrest and injustices of 2020 changed you and Delta?
The pandemic created a world where people became sensitized to their environment in new ways. When George Floyd was brutally murdered, a shared sense of outrage emerged along with a resolve that we have to do something about a society where Black men are murdered too often. That's something that I believe, before the pandemic, we would not have been as set on rectifying. People are moving from the sidelines to the playing field and trying to make changes and be part of the solution. The vision is what Martin Luther King Jr. called the beloved community—a community where the Black person, white person, Native American person and Asian person are cared for absent of poverty, hunger and hate. It is a place of true inclusion and justice.
Personally, I have been really trying to start the journey and dive into the conversation. One way I'm doing that, for example, is that I'm only reading Black authors this year. So, whether it's Richard Wright, Maya Angelou, Emmanuel Acho or John Lewis, I'm immersing myself because I feel I need to understand the Black perspective better than I do because I am a white man and I can't presume to have any real insight or understanding. That's been edifying and enriching for me personally.
I also took a pilgrimage to the George Floyd murder site (now known as George Floyd Square) with one of my children. It's very powerful. I think it represents the broader racism and systemic sin that racism represents in our society. It has every single name of every Black person who has died at the hands of a police officer over the past decade or so as a reminder and memorial. And then there's art everywhere—poetry, paintings, sculpture—all telling the story of racism and inspiring action for a more just future.
As a leader, what I've strived to do is bring the conversation to my team. At Delta, we have had a number of town halls that were open to all employees. First, Bryan Stevenson came in, actually even before the pandemic. We did a premiere of his movie, Just Mercy, and we were planning a field trip to his civil rights center in Alabama when the pandemic hit. Brian came back after George Floyd was murdered and had a conversation with the Delta family. We also had Bernice King and Andy Young in for similar candid conversations. We're trying to get everybody engaged and thoughtful around: What does this mean for Delta Air Lines? What is it that we need to do as an enterprise to help be part of a real solution?
How is Delta Air Lines prioritizing diversity?
We have extremely high expectations about diversity, and we are asking all our law firms to put diverse teams together and engage with them around the importance of our D&I initiative. We will not be hiring law firms that are not diverse and not part of the solution. We tell law firms how important this is; it's a core value. Forty-three percent of our employees are people of color. We are an international airline; we operate all over the world. So the idea that we don't have diverse firms is unacceptable.
The other thing is we're going to pay some financial incentives around this. We're going to be asking for all the data, with respect to not just their firm makeup but also whom they are giving credit to. Are you helping diverse lawyers get that type of credit? Are you giving diverse players meaningful roles? To me, that's where many firms fall down.
It's like anything—somebody gave each of us a shot. You just have to trust people. So, we're going to give you this deposition or this case to handle. That's what needs to happen in order to create the true progress that's been missing in the legal field for way too long.
We're also following the Mansfield Rule. When my team is recruiting for a position, I always make sure that the "final two" includes a diverse person. Because the talent pool is gargantuan, there's never an excuse that you can't find somebody who is a rock-star candidate for a position at Delta Air Lines. That's been very successful. We're fortunate. We're an employer of choice. So we are able to cherry-pick and have been able to build a diverse team of the best aviation lawyers in the world.
Another thing we're thinking about is job requirements. For example, is an extensive criminal background check necessary for a role? There's no question that Blacks in America are incarcerated at higher rates, often for smaller infractions. We need to look at how we recruit and our job requirements.
There are many jobs that have college degree requirements that I think preclude diverse people. It is important to have diverse people at every level of the company—pilots, flight attendants, mechanics, board members, officers, etc. You have to be intentional about it, and you have to understand what barriers exist.
What lessons have you learned in the past two years?
It's important as leaders to be humble, because just when you think that you are on top of the world, overnight a crisis hits. Humility allows you to learn new things, which in turn allows you to solve new challenges.
Then, as a leader, don't be afraid to work outside of what might be viewed as your wheelhouse. What I mean by that is that I have learned that even as chief legal officer, I can add value way beyond the legal and policy functions. Think about the places where you might be able to add value and contribute, especially when you are in crisis mode. As a chief legal officer or general counsel, you're uniquely designed to drive projects and run into a fire as opposed to going into a cave. If you know that you have the instincts and training to run into the fire, you're going to be part of that crew that puts the fire out, which in the end is quite satisfying.
Personally, however, the most critical lesson coming out of the pandemic for me is the importance of taking care of each other. It is critical that I give my team the support they need to not just succeed as professionals in what they do, but also to help provide support for them to continue to be healthy people. This pandemic has shown us some of our fragility and reminds us of the big challenges we have—and that can weigh heavily on people's shoulders. So, to me, my number one job is doing all I can to sustain and improve the health and well-being of my team.
What's next for Delta Air Lines?
For us, it's really about getting through the recovery. We're seeing great demand, which is important, but we are still limited with international flights because of remaining travel restrictions. We had thousands of employees take early retirement during the pandemic and lost that knowledge. So, we're hiring like crazy and have to train and enculturate those new people. We borrowed lots of money, so we're paying down debt at a feverish pace to make sure our balance sheet is investor grade. It's rebuilding to a place where we hope that in two years we're back to where we were in 2019.