As an executive search consultant, Heather Wolf has seen a positive trend of boards of directors stepping out of their CEO and CFO comfort zone and looking to other C-suite talent to fill their empty seats. Now, the general counsel is a top contender—and sought-after asset—for the boardroom.
Maria Green, former general counsel at Ingersoll-Rand and Illinois Tool Works (ITW), realized her boardroom dreams for the first time in 2019 after making her goal to become a public company director known around 2012. Carol Eicher knew Maria was the right choice for the Tennant Company board—and she has truly set a high bar for new directors since.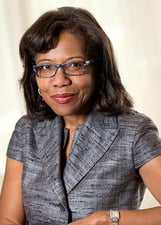 Independent Director for Tennant Company, Littelfuse & WEC Energy Group
When did you first take an interest in board work?
I first became a GC in 2010, and by 2012, I realized I was attending all the board meetings and acquiring the skills needed to be a company director. Two other things also happened in that time: our CEO became ill and died 14 months later. This was an awful time for everyone at ITW, but it was also an incredible learning experience because I was able to interact with the board and discuss strategy and succession. Also, ITW was approached by an activist investor, so managing through that also gave me experience I thought would be valuable in other boardrooms.

What steps did you take to land your first board director seat?
The first thing I did was talk to my CEO and let him know I was interested in board service. As a member of the executive team, it's critical that you understand your CEO's views about whether they support their executives sitting on outside boards, so you have to take the temperature of your CEO. If he or she is not in favor of it, then that's the end of the discussion. However, if you talk and they are supportive, then you already have your first advocate.

After that, I just talked to people who I thought could be helpful in the search—directors on my board, people of influence and people I came in contact with every day and who would think of me if opportunities came available. Board searches often do not go to a search firm; the Nominating and Governance Committee will look at the skills matrix to see what they are missing and then talk among themselves to see who they know who would be a good fit. So making sure those who are already in boardrooms know you are interested is important. But I did also talk to search firms because it's important they know who you are.

Lastly, I wrote a board bio, which is different from the resume you use to obtain an in-house role. It's really emphasizing the things boards care about, like crisis management, enterprise risk management, enterprise strategy and other skills you have developed in the previous roles you have held.

You currently sit on three boards, all of which has happened within the past two years. How did you springboard from one to three so fast?
It was much like before I got my first GC role; if you have not had one, it feels impossible to get that first one. However, once you get one, you're in the pipeline. It's the same with board seats. The first is the hardest to get and then it gets progressively easier. Every seat I got was because of someone I knew or worked with. Everyone's path is different, though. My first seat came because of a woman I knew; she got a call and referred them to me when she was unable to do it. All three referrals were from women, which has been pretty exciting.

What interested you in working on each?
The culture of the companies and the boards interested me in all three. All three are Midwestern companies, and to me, there is something about good solid Midwestern values. Also, all the companies have the highest ethical standards and high-functioning boards where the directors have a lot of respect for each other. Finally, the industry connection—I was GC for two industrial manufacturing companies, so Tennant and Littelfuse, in particular, were right in my sweet spot.

Did you find that your legal background presented any obstacles to landing a board seat? And conversely, any advantages?
Probably 10 years ago, lawyers were not sought after for board seats. But there has been an evolution, and with everything that's happening now in the world—cybersecurity, #MeToo, increased regulations—those are things that are in a GC's wheelhouse and likely something they have experience addressing.

Boards look for what you have done that will make you a valuable contributor in their boardroom. Having been a part of a management team, I had a broader perspective and you need that on a board.

How do you balance your time between the three?
The past year has been tough. For all three, I asked to be on the audit committee because that's where you really learn about the company and the important decisions that are made. That's also the most work—they have the longest meetings of all the committees and meet more frequently. It's a tremendous amount of work and the return on investment is worth it.

What advice do you have for other general counsel interested in serving on a board?
*Talk to your CEO and make sure he or she is in favor of you serving on a board.
*Prepare a board bio.
*And make sure you understand that the role of the director is oversight, not management of the company.
Chair of the Governance Committee for Tennant Company, Advanced Emissions Solutions & Hexion Inc.; Board Director for Aurora Plastics Inc & Arconic Corp
How did you become governance chair?
When I was 45, I started thinking about corporate board work, realizing that it would be a great extension of my career when I was no longer working full time. I then began networking and talking to my CEO and other directors who I knew. In the course of my conversations, I connected with Michelle Hooper, who was working with other female directors to advance women board candidates. Michelle was on Target's board when Jim Hale served as Target's GC and Jim subsequently chaired the governance committee at Tennant Company. Through Michelle, Jim was made aware of my board interests and ultimately brought me onto Tennant's board and chose me to succeed him as governance chair. He said it was because of my being an engineer and very process-oriented. He took me under his wing and made me co-chair of the committee, which allowed me to come up the governance curve quickly. Not being a legal professional, I felt that curve was pretty steep and I remain very grateful for Jim's mentoring.
The experience of chairing the governance committee at Tennant made me realize how interested I was in the board process, so I continued to network at NACD governance events and to invest time in developing my knowledge. As new board opportunities arose, I indicated my interest in governance, and before I knew it, I had made myself into a governance expert. The targeted and focused mentoring and networking were critical.
As the chair of the governance committee for Tennant Company and a number of other boards, what is your role in the selection of new directors?
The role of the governance committee is to make sure the board operates properly, and that starts with making sure we have the right people on the board. The committee is responsible for leading the process of selecting and onboarding the right people. Oversight of the process of director selection and evaluation is one of the most important roles that a governance committee fulfills.

What makes a general counsel a good fit in the boardroom?
Most GCs have worked in law firms and corporations, so they have seen it all—contract disputes and negotiations, M&A, and a host of compliance matters. They've got a broad perspective of everything that goes on, both strategically and operationally. To be a good attorney, you must have a level of inquisitiveness and that's a necessary trait of a good board member—knowing how to listen for understanding and to ask clarifying questions.

General counsel understand the board process because they spend a lot of time in the boardrooms of their own companies. By the very nature of their full-time jobs, they have a perspective on the challenges a board might face. They also have a keen understanding of the differences between what management does and what directors do.

What advice do you have for those interested in serving on a board?
Landing a board position is very much like any job search process. The first step is figuring out where your interests and abilities to contribute intersect. Do some homework and decide the type of board you are interested in—manufacturing, retail, financial, etc.—and why. Then study up on the specific companies you are interested in and determine if there are potential points of connection. There is so much information available on websites and in financial disclosures. Think about how your experiences could bring value to a board.

You have to put yourself out there and be relentless about the networking process. It took me about five years from the day I decided to start working on becoming a board member to the day I was elected to the Tennant board. I must have had 25 different conversations and gotten into at least five recruitment processes before the right opportunity clicked. I guess it goes without saying, but you have to be prepared for rejection.
You have to make it known that you are interested. And if you are working, approach your CEO to see if he or she and the board are supportive. Many CEOs view serving on a corporate board as a developmental opportunity. As Maria said, some won't—and that's the end of the conversation. I also talked to friends who were on boards and asked for suggestions or if they were willing to make introductions. That said, the first directorship is always the biggest challenge.
Managing Director with Allegis Partners' CEO & Board Practice
How do you support boards in finding new directors?
We always start by articulating with our board clients who they are looking for. We spend time discussing the kinds of skills, past experiences and personal characteristics that will add the most value given the company's strategy and current board composition. An old adage really applies to starting a director search: If you don't know what you're looking for, you probably won't find it. Once the position specification has been determined and documented, we cast a wide net to come up with a strong selection of prospects for consideration by our clients. When this long list has been prioritized, we commence outreach to the top-priority candidates to assess their interest in and availability to serve on the particular board. This drives a short list of promising candidates who are interviewed and vetted by our team and the clients. From there, we help our clients make their final selections and onboard their new directors.

It's worth mentioning an important lens through which we view all our client engagements. We go the extra mile to ensure our candidate slates are heavily weighted toward women and people from underrepresented communities.

What qualities do you look for in new directors?
There are certainly some "givens" when it comes to the qualities that make a good director. To start with, impeccable ethics, an independent mind and a healthy curiosity are table stakes. We always look for these attributes. We also strive to be sure that candidates will be willing and able to make the time to appropriately engage in board business, both during and between meetings. This is particularly important for sitting executives and candidates who already serve on two or more boards. Over-boarding is more than just a catch phrase. It has become clear during this multifaceted crisis period that some board members simply can't dedicate the time to fulfill their duties as directors given all the demands on their time.

The notion of cultural fit is very important for executive and non-executive placements alike. As search professionals, it is critical that our team gets a strong sense of a board's culture so that when we meet candidates, we can filter out those who will be a poor fit. It used to be that most directors were cut from the same cloth and behaved in a clubby manner. With today's emphasis on diversity of thought, boards are far less likely to engage in "group think." However, working together in a collegial manner remains an important feature of a high-functioning board, hence the continued emphasis on cultural fit.

What makes general counsel good board directors?
A seasoned GC has pretty much seen it all. Many have lived through crises of one type or another during their corporate careers and have the playbook for how to respond when something similar happens. Just like a veteran CFO who probably has not done any hands-on accounting for years, an executive-level legal officer is not spending time writing contracts or filing court documents. He or she is helping set strategic direction and troubleshooting operational issues as a member of the leadership team. These are highly relevant skills and experiences for a board member.

Maria and Carol both touched on another important element, which is the temperament of many career attorneys. Curious, process-oriented, facilitative, even-keeled, cool under pressure and unflappable are some of the descriptors I have heard used to describe an experienced GC. They tend to understand where the management—board line should be drawn and can help fellow board members stay in their oversight lane.

What advice do you have for those interested in serving on a board?
Get your story straight. Think in concrete terms about how your career will translate to an oversight role on a board and the ways in which you would be a valuable contributor. This will be helpful when you reach out to the people in your network and ask them to support your quest for a board role. Most people like to be helpful, so make it easy for them by making your "ask" as direct and specific as possible.
The other thing I always preach is patience. The board succession and recruitment process is notoriously opaque to anyone outside a particular boardroom and varies from company to company with respect to how director recruitment is handled and who makes the final call. Candidly, there is an element of luck, or at least serendipity, involved in landing a board seat. It can definitely come down to being top of mind at the right time, with the right advocate in the room when decisions get made. It can be frustrating and confusing for a candidate when things do not pan out or when communications go quiet. It's important to take the long view on landing a board position and listen for any feedback you get as you network and interview. It's also critical that in your excitement to become a corporate director you do not accept a role that you do not feel really good about at a gut level.