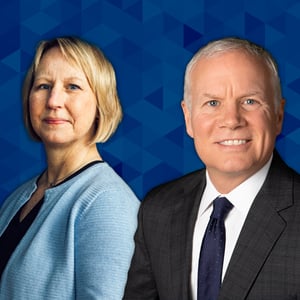 When a global pandemic engulfed every country in the world, all eyes fell to the pharmaceutical industry. Pfizer and Moderna—among many others—knew they had to do everything they could to try and bring a vaccine to market as quickly and as safely as possible. Doug Lankler, general counsel of Pfizer, and Lori Henderson, general counsel of Moderna, were on the front line of innovation within their two organizations. And while these two companies could not have more different stories, they both share a successful end result.
When you first heard about COVID-19 and the need for a vaccine, how did your company embrace the challenge ahead?
Doug: Knowing that the pharmaceutical industry, and Pfizer in particular, could do something about the virus and potentially bring forth a solution was a huge deal. Albert Bourla, our CEO, was determined from the very beginning that the company leverage its deep heritage and scientific expertise to create a vaccine to respond to what quickly became a global health crisis. For more than 130 years, Pfizer has played a pivotal role in eliminating or nearly eliminating deadly infectious diseases like smallpox and polio.

Pfizer's purpose is breakthroughs that change patients' lives. These are Albert's words. And I can tell you that if you walk around Pfizer, you will see those words everywhere. It's become a part of our DNA—and the keyword there is breakthroughs. It's the notion of discovering and developing innovative medicines and vaccines and then finding a way to get them into the hands of patients..
Albert's mission for the company and his drive to devote any and all resources necessary to produce a vaccine in record time was essential. He made it happen.
Lori: Our CEO and the leadership team of Moderna have always been incredibly forward thinking about what the opportunity for mRNA medicines could be. If you go back and look at how Moderna has been built over the past 10 years it's been in existence as a new platform company, it was built with the idea in mind that once mRNA medicines were shown to work, then they could be adapted quickly and easily to many medicines.
When we first started hearing in January 2020 about this new disease that was circulating, our CEO and the team were very focused on the fact that this could be an opportunity for mRNA medicines to come to the forefront. From the start, our CEO was in contact with world leaders and thought leaders in infectious diseases because infectious diseases had been one of the places where Moderna had focused its R&D efforts, so the team had a vision that our technology could help.
We have a long track record of building the company with a big vision, based on our core values, which are bold, relentless, curious and collaborative. So, it was a natural outgrowth of what the company had been doing all along, which is to say let's try to see if we can make this work and be part of the solution. Nobody knew whether it would work or not, but we had no doubt that we could mobilize teams quickly to try to make it work.
Was there any cross-collaboration within the industry?
Lori: There were many conversations at many levels: executive and scientific. On the legal side, there is a broad vaccine company working group that was partnering with industry groups, NGOs, law firms and others to talk about some of the legal and practical issues around producing vaccines for a pandemic situation. That group mobilized very early on. There were concerted efforts between industry groups, governments and companies to think through a lot of the issues about how to respond to a global pandemic that was shaping up to be unlike anything we had ever seen. A number of the participants involved had prior experience with previous pandemics, like H1N1 or Ebola, so there were learnings to be shared about how to think through working with governments. I think we all realized this needed to be a group effort between companies and governments in order to develop these vaccines, get them approved through the required regulatory channels and then get it distributed into the various countries .There was a lot of cross-industry discussion going on.
Doug: There were a lot of conversations among different pharmaceutical companies. Many scientists were talking to each other to understand who was doing what, where their focus was and what were the opportunities that could be leveraged to address every aspect of finding a potential therapy or vaccine. Pfizer has decades-long experience in R&D, regulatory and manufacturing that we could rapidly deploy.

We struck a partnership with BioNTech and immediately began research and development and manufacturing scale-up of our vaccine. Pfizer also is supporting Gilead Sciences with the manufacturing of their COVID-19 treatment. We had a single-minded focus on fighting this virus and we knew multiple successful vaccines and therapeutics would be needed. Everybody was really focused on finding solutions—with an S.
What was the legal team's role in the vaccine development process?
Doug: If you're going to develop a vaccine in 10 months, it's got to be each of the different functions in the company—beginning with research and development and the scientists—working together. I have a very talented legal division filled with knowledgeable lawyers who understand all the different elements required to develop a vaccine, which is critical when you're diving into a situation like this.

We're one of the functions in the company that literally touches every single aspect of drug development, from research to manufacturing and all the way through commercialization. You get to see the whole picture and it allows you to spot issues, watch the horizon, preempt problems that could pop up and then work with the clients to help make sure those problems get fixed.

The overall approach of the company started with Albert and a small "SWAT team" that would get together at least twice a week, if not every day, for what we called our "lightspeed meeting." For example, the commercial team had a SWAT team and that team would get together every day; same with R&D and manufacturing. There was a lawyer on every one of those teams, and then those lawyers made up my SWAT team. We had a twice-weekly conversation in legal so we could all make sure we understood what the other hand was doing and try to keep track of it. It was a sustained, full-court press involving multiple practice areas to support the rapid development and registration activities for our COVID-19 vaccine, all the while ensuring adherence to patient safety, scientific rigor, quality and integrity.

Lori: My situation was vastly different than Doug's. Last January, Moderna was not expecting to have a commercial product for another few years, so our team was staffed appropriately for a pre-commercial, clinical stage company—and that was at every level of the organization.
As the entire company rose to the challenge of developing a vaccine, we scaled up in many areas and added new talent. On my legal team, we did two things: We quickly mobilized very specialized global outside counsel on many fronts, and we built up our internal team to recognize that this was likely to come to fruition and we needed to be prepared for it.
We found an amazing number of partners who had specialized legal talent around the world that supplemented our internal team on many issues that arose. Those teams functioned as a part of my team helping us manage the numerous issues that we faced. I spent a lot of time in the early part of 2020 identifying and interviewing counsel and talking to them about their experience with vaccines and about how they would see this unfold in their area of the world and what the issues might be.
At the same time, we were building up internal and external manufacturing capability. We had done our own manufacturing of our clinical supply, so we needed to quickly partner with others in order to build additional capacity that we would need should our vaccine be authorized for use.

One of the most amazing things about the Moderna story is that our company doubled in size in 2020. So many people were brought on to be instrumental in this project and make it successful. I was fortunate enough to bring in some people who were experienced in commercial development of products both in the United States and in Switzerland where we established our first operations outside the United States.


An additional challenge for everyone—not just the legal team—was the fact that we could not meet in person. Even on the executive team, we had new people join our team who had never met anybody in person. So, communication was very important. We had many group meetings, not just of the executive team, but of the various project teams that included the legal team and the external lawyers that we were partnering with. It was a lot of pulling together. We wanted everybody to be moving together with information at the same time.
How involved was the board of directors in the process?
Lori: Our board was very involved and supportive of our efforts. As we focused on the process that could lead to a vaccine, there were many steps along the way that required the input and support of the board, and they gave generously of their time and expertise. The board and management were also very focused on being transparent in our efforts, not only to our own staff but to all of the world's stakeholders. We were a relatively new company and our board was focused on engaging openly with our stakeholders so they understood our progress and plans. Communications became very important.
Doug: We've got a number of renowned scientists on our board—six, in fact. We are very fortunate to benefit from the breadth and depth of their perspectives and experiences in business, medicine and academia.

As a science-focused company, the board is very engaged in what we're doing, providing oversight and direction on a variety of topics, including the clinical trials. We had frequent meetings to update them.

From the very beginning, our board members were actively involved and extremely supportive. When Albert said he wanted to invest in a vaccine solution knowing it could cost billions of dollars that we might not ever get back, the board unanimously backed him. They also stood behind him when he made the decision to scale up manufacturing at risk before we even knew the vaccine would work. This support was key to allowing us to move quickly.
How did you keep morale up throughout this process and the pandemic in general?
Doug: I heard consistently from everyone at Pfizer as those months were progressing that, honestly, no one had ever worked harder in their lives. And they fully embraced the challenge. They loved their work because of what the potential held for helping society, their community and their loved ones. I think there are a lot of people who felt like even if our vaccine didn't work at the end of the day, we were doing what was most needed—developing breakthroughs that change patients' lives. If our vaccine didn't work, we were ready to step up and help whoever had a working solution.

I felt fortunate when I was taking walks around my neighborhood and people would see me and say, "How's it going? How are you guys doing?" It was very motivating. People had that sense that you were working on something important. It really reinforces just how important the work we do is and how meaningful it can be. And it speaks to the tremendous power of science and the tremendous power of the pharmaceutical industry in how it can contribute real value for society.
Lori: I saw the same motivation at Moderna. What was frustrating for many of our friends and colleagues during the pandemic was that they felt so powerless to do anything. Everybody wanted to be doing something to help. So, our teams were motivated to work very hard and to continue on because we were doing something that we were hoping would be part of the solution.
When something comes up like a crisis of this magnitude and you have people who are really interested in pushing the technology envelope, which is the DNA of Moderna, and you have the skills and talents to get toward a solution, I think that helped some of us get through last year. What we were working for was so meaningful; it was a special thing to be a part of it. You could feel the specialness of it and people tended to lift each other up. We supported each other through the ups and downs.
It was very complicated—people had families, they had children who were doing their schooling at home, they were worried about the pandemic. But everybody felt part of the mission—if we could be doing something to help, we should be doing everything that we could.
What did you personally learn through this process?
Lori: You can balance risk and reward in a way that will work for these big, hairy, audacious goals if you have tight communication and coordination with your team—and you're upfront with your stakeholders about what you are doing, how you expect to move forward, what the next steps and milestones are, and rely on very open lines of communication. This is also critical with the staff to keep people aware and engaged.
My experience over the past year has really affirmed my belief in scientific visionaries, like our CEO and board, who have been exceptionally forward-looking about swinging for the fences. With a concerted effort, it's possible to make these things come together. It was a privilege to be a part of it.
Doug: I got to watch our CEO up close, and one thing that struck me was his determination. It was phenomenally inspiring. He's genuinely persistent and his belief in all of us and in our ability to be nimble, agile and innovative was really powerful. It is what enabled us to make the seemingly impossible possible.

It underscores the role of a good leader. If a leader can inspire and motivate, you can accomplish all that is needed to achieve a goal. Without a doubt, our CEO had a big impact on me as I think about my leadership style with my division and what we're doing.

What do you think comes next for your companies?
Doug: Before the pandemic, we had undertaken a broad effort to "reimagine" our goals and operating practices. The vaccine effort became both a testing ground and a proof point for that initiative. And our research to explore the full potential of the vaccine continues.

The urgency of COVID-19 forced us to think differently and challenge our practices around research and development. I am certain that the lessons learned from this experience will help inform our efforts for decades to come. The concept of being an innovative company in an innovative industry is really, really important. And lawyers are critical to our ability to innovate. We've clearly demonstrated the ability to rapidly develop meaningful solutions and I'm confident the same light-speed mentality can be applied to future innovative solutions for patients.

Lori: Moderna is building on the learnings and the knowledge that we have gained as a company in developing the COVID vaccine to accelerate the development of other vaccines and therapeutics. The world now has a new class of medicine that's been broadly validated by two vaccines that are in the market helping to mitigate this pandemic. I think nothing will really be the same as far as the approach that we and others take toward developing future vaccines and therapeutics based on mNRA technology.
If you look back historically, crises tend to spawn innovation and changes to established practices. This crisis will spawn innovation and changes to established clinical practices that will serve to benefit the development of medicines in general across the industry.
Can you safely say being where you are has been the highlight of your career?
Lori: Being part of the 2020 vaccine development and rollout has certainly been the highlight of my career. Given the size and timeline that Moderna was on when I joined, we did not expect this and being able to witness a group effort of this magnitude has been awesome. I was able to use all my accumulated business and legal skills to partner at every level of our company to move this forward.
I really could not be prouder of what we accomplished in 2020 and being able to be part of this team will forever be something that I'm exceptionally grateful for.
Doug: I feel so incredibly fortunate to be at Pfizer and in this role. It has been both a great privilege and a great responsibility for myself and for many of my Pfizer colleagues who all have been working toward the common goal of defeating this virus.
We now have a vaccine that is safe and effective—multiple vaccines and therapies, in fact, and that's a huge deal. To witness firsthand our scientists, regulatory colleagues, manufacturing people and all the different genuinely smart folks who have been working so hard on the vaccine is humbling. I am very proud of our contributions that helped show the world what the new Pfizer can accomplish.