Five legal mavericks share their unique career journeys.

General Counsel, MessageBird
In reflecting on my career—and asking myself what got me to where I am today—I love to think back on my days as a professional athlete. It was a wonderful ride—demanding, crazy and challenging, but I was a very happy young man during that time.
I discovered kayaking when I was 10 years old, after my father joined the local rowing club in the Swiss town where I grew up. Originally, I didn't consider myself to be super talented, but I found the right environment where I could thrive. I met a great group of guys and spent every minute at the club; I excelled early on because I found something that I could channel my passion into. In fact, I nearly made it to the Olympics—but unfortunately lost out in a final stage.
Sports taught me many transferable skills that support me in my career today. I had tough coaches who were brutally honest and direct; while the first time it stung, immediate feedback is valuable and can challenge you to improve. I also learned that there's a fine line between winning and losing, and it's less about the outcome than the fun you have along the journey—because winning is never guaranteed. Losing can also be powerful, because you learn a lot from the experience.
My professional kayaking career also taught me about the importance of goal setting. You need to be ready to go the extra mile and work harder than anybody else in the game. As a professional athlete, you need to create long-term goals that pull you out of bed in the early morning—day in and day out, for years—because you won't become a champion if your only focus is to win tomorrow's game. This is also the essence of a lawyer's career in today's transforming legal industry. We need to stay agile, adapt to the circumstances and retain mission-critical focus on what matters to ourselves and to the companies we serve.
These lessons have been instrumental in my current position at MessageBird, where both individual drive and teamwork are crucial to our organization's success. It's a high-pressure role that requires stamina and resilience. But if you embrace this and keep perspective on what matters most, it's a wonderful environment for learning and the best job I could ever ask for.
Lastly, I'm often asked what advice I can pass on to a young lawyer just starting out in their career. It's important to find the right partners who can be in your team—whether a mentor, advisor or law school friend. Try to find a job at a company like MessageBird, which encourages growth, lets you make mistakes and supports you in carving out your own path. And whether or not you have a background in sports, think like an athlete! Set goals, work hard, ask for help when you need it and build a network of people who can guide you through the challenges. Success comes from a culmination of so many factors, and you can only win when you find the right balance.
---
Vice President & Deputy General Counsel, Golden State Warriors
Like many kids growing up, I loved playing sports, especially basketball. As I grew older and started to think about what my career might look like, I dreamed of carving out a role for myself in the sports industry. Initially, that was through exploring opportunities in the fields of marketing, advertising and sponsorships. Even as late as my senior year in college, going to law school wasn't on my radar at all; I didn't have any lawyers in my family and didn't know much about what lawyers actually did.
Following graduation from college, I joined the National Basketball Association's associate program, where I had the opportunity to join the corporate partnerships group at the league's headquarters in New York. It was a great program, and I developed a lot of fantastic relationships that benefit me to this day. It really wasn't until I was at the league office that I first considered going to law school.
During my time at the NBA, I gained a deeper understanding and appreciation for what lawyers do, particularly transactional work. Observing how lawyers at the league office provided advice and counsel with respect to all the NBA's activities and businesses seemed like something that could be a good fit for my skill set and personality. Then-Commissioner David Stern, a well-known lawyer, created a culture of compliance that permeated throughout the NBA, and many on his leadership team were also lawyers. I began to see how legal training could be an asset in the sports industry. Right around the time of the NBA lockout in 2011, I decided to apply to law school and embark on the next phase of my career.
I went to law school with a relatively clear purpose in mind: to develop my legal skills in hopes of returning to the sports industry in a new capacity. While I was in law school, I was president of a student group focused on sports law and would network with attorneys, putting together panels and other programming for students who were interested in the sports industry and the legal issues that surrounded it.
During my 1L year, I attended an event where a panel of alumni were speaking about their legal careers. I quickly realized one of the speakers, Jared Bartie, was at the NBA league office around the same time that I was, and that we had some mutual connections. At the time, he was a partner at a law firm in New York that was doing exactly the type of work I was interested in, so I approached him after the panel and shared some of my goals with him. Knowing I wanted to work on sports transactions, he recommended that I join Katten Muchin Rosenman. His recommendation turned out to be an excellent one, and Jared remains a mentor to me to this day.
Katten was the perfect place to begin my legal career. I was a member of the sports and sports facilities practice group, providing counsel to professional sports teams, venues and investors on a variety of matters. The experience I gained only deepened my interest in sports and my professional aspirations as an attorney.
Then, in my second year, I had the opportunity to join the Warriors as the organization's second in-house legal hire. I grew up in San Francisco and have always been a huge NBA fan, so this was an incredible opportunity that I couldn't pass up.
In my current role as VP and deputy GC of the Warriors, my primary responsibilities include oversight of all legal matters affecting the organization, including those related to the Warriors' corporate partnerships, finance, and ticket and suite sales and services groups; our NBA G League team, the Santa Cruz Warriors; our esports affiliates; and select corporate governance and basketball operations matters.
I've been so fortunate to experience four of the franchise's five consecutive NBA Finals appearances, including championships in 2017 and 2018, as well as the organization being named "Franchise of the Decade" across all professional sports teams by the Sports Business Journal/Daily in 2019.
If I were to go back in time 20 years and tell a younger version of myself that I would grow up to work for the Golden State Warriors, I'm not sure he would believe me. Hard work, networking and a little bit of luck allowed me to turn my dream of working in sports into a reality. As incredible as this journey has been so far, I'm still excited to see what the future may bring.
---
Partner & Vice Chair of the Healthcare & Life Sciences Practice, Latham & Watkins
Career paths often seem obvious in retrospect, but my particular journey took me from the East Coast to England, to the West Coast, to the Midwest and back to the West Coast before I finally found myself in a career for which I was well-suited and that I love.
I started out with no preconceived notion of my ideal career. I knew I was fascinated by the biological basis for behavior and I knew I loved to write. So I went to a liberal arts college and focused on biopsychology. In my junior year, I went abroad to the University of Sussex in England and took a neurobiology course that I greatly enjoyed. The professor invited me to do a research-based degree after I graduated to explore research as a potential career. I took him up on that offer, earning an M.Phil. at Sussex.
To prepare my thesis, I needed access to a computer (this was back in the days when sophisticated computers were hard to come by). A friend in graduate school at the University of California, Berkeley had a computer I could use, so I moved to Berkeley temporarily (I thought) to write my thesis. While in the Bay Area, I applied for a job in the biotech industry because I wanted some time to reflect on whether I wanted to pursue a Ph.D.
I spent a few years working at Genentech, one of the leading biotech firms in the world. The high caliber of my coworkers and the importance of their work made a big impression on me. I came to understand the nature of innovative research and the complexity of developing a pharmaceutical product based on successful research. I often sat in science meetings in which patent issues were discussed, and a patent attorney often participated. This was my first inkling that the attorney role might be right for me.
After experiencing biotech research, I had to decide on my next steps: should I pursue a Ph.D. or a law degree? Aside from my observations of the patent lawyer, I didn't really understand what a legal career looked like. So I just took a leap of faith and decided on law school. I thought that a JD could provide career flexibility and potentially I could still play a role in the biotech industry.
I initially thought patent law would be the right focus for me, but I tried it during a summer clerkship and realized it wasn't the best fit. When I graduated, I had an opportunity to join a law firm with a more general life sciences practice, which had an opening in its biotech licensing group. So I accepted the position and never looked back.
Fast-forward to 2020—the challenges of the COVID-19 pandemic, in terms of practical day-to-day lawyering, opportunities to advise on transactions involving potential therapeutics for COVID-19 and related conditions, as well as pro bono projects to assist patients and others, have just been extraordinary. At this point in my career, being able to leverage my experience to advise a range of life sciences clients in complex matters and to help them solve problems efficiently to achieve their long-term goals is incredibly satisfying.
---
Partner, Womble Bond Dickinson
As a young lawyer, I remember the statistics were terrible for women to make equity partner in an AmLaw 100 firm. The odds were definitely against me, and there were a lot of road blocks. I honestly did not make it on a regular path.
In my last firm, while I was on my second maternity leave, instead of becoming a partner, they made me counsel. When that happened, my mentor called and said, "One day, when you tell your girls about this, are you going to tell them you settled?" I had never thought about it that way, but I was so glad he said that to me because he was right. I didn't want to settle.
Interestingly enough, a recruiter reached out about an opening around this time. I had honestly never even considered moving before, but it was sticking in the back of my head that I didn't want to settle, so I started looking at other firms. With the help of a recruiter, I found Womble Bond Dickinson.
It is a firm run by women. In fact, at the time I joined, the top three positions were [all filled by] women, and our firm's top executive is still chair and CEO Betty Temple. They understood women's issues, and they understood a balanced lifestyle. They believed women could do it all; they just had to do it in a different way.
I'll never forget the day I walked into the room on the 25th floor of our building and they toasted me into equity partnership. I had been here about three years at that time—I had to spend a few years building up my practice here. People really were cheering me along the way, wanting me to make it. It was an amazing moment and that was probably my most memorable day.
I really have felt supported here in my career. An example of the support I received was their recommending me to become a board member on the chamber of commerce. The Georgia Chamber of Commerce is the state's largest advocacy organization and it deals with state and federal issues. That's a lot of trust and faith in what I can do for the firm.
We had a partner in the Atlanta office who'd been on the board for over a decade and he was retiring. So the managing partner of the Atlanta office approached me and asked me if I'd be interested in taking his spot on the board, which I was honored to do. It was a big deal to be on the board with all these great organizations in Georgia and to have a say in what the organization is doing.
---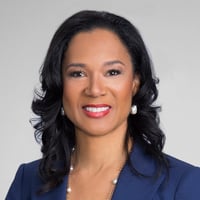 Dallas Office Managing Partner, Perkins Coie
Going back into private practice wasn't really on my radar. One of the partners at my old firm reached out, saying the firm wanted to talk to me about coming back. (Hughes & Luce, where I was before I went in-house, was acquired by that firm.) I thought about it and decided it was a fantastic opportunity to be the partner who I appreciated when I was an associate and to be the lawyer who I appreciated when I was a client. I wanted to marry those things up with what I had learned from the business world.
When I was in-house, I had the opportunity to be a part of executive management programs and to be a part of the C-suite and understand how the business thought about itself and how the operators of business actually think and work. Returning to private practice allowed me to take that knowledge and experience and then use that information for the benefit of clients. Also, it was an opportunity not just to have all my eggs in one company's basket but to also really be able to see across the market as a professional—that free agency was exciting to me and it continues to be.
I felt that I would be able to have a real impact with my advice and my experience. Honestly, I've always been a little bit of a teacher at heart. (If I weren't a lawyer, I probably would have been a college or high school English teacher.) I feel like my management skills were very intentionally developed throughout my career and I want to be able to do the same for others. Now, almost five years after returning to private practice, I am able to more formally develop people in my new role as managing partner of my office at Perkins Coie.
The law is a learning profession; it's an apprenticeship profession. We learn by our interactions with each other. The thing that makes law firms great and fun is the sharing of knowledge. I believe we are smarter as a collective.